Blinds offer easy shade and privacy control with style and elegance.  The brilliant array of options and variations of blinds available mean there's one to perfectly suit your dream décor for your home.
Styles to suit all decor: Roller, Venetian, Vertical, Roman, Zebra, Cellular, Transitional Multishades, Panel Glides, Veri-Shades + More.
All Our Blinds Are 100% Australian Made, Right Here In Queensland
Simple, elegant, versatile and classic, Roller blinds are always popular – and for good reason!
Roller blinds are a highly sort after window furnishing due to their versatility as they go together well with most interior styles and can easily be combined with other window furnishings. The compact design of the Roller blind allows it to be used where other blind products may not be suitable and can be utilised in a wide variety of applications.
There have been many advances in fabrics, from light filtering roller blinds to blockout roller blinds and sunscreen roller blinds, with all these materials available in different colours and designs. Additionally, Rollers can even be matched with Verticals, Romans and Panel Glides to provide the complete design solution for each individual customer and their needs.
Roller blinds are available in different systems to accommodate different needs and tastes including; chain operated systems to suit different window sizes, and even motorised and automated systems.
Other types of Roller blind options consist of; linked and independent linked systems and double roller blinds as well as optional headboxes and side channels that will block out nearly all sun light from shining through.
All our Roller Blinds are proudly made in Australia.
ZeroGravity Child Safe Roller Blinds
For those of you with young families you will no doubt be aware of the strangulation hazard that blind chains and cords can present to young children. We have young families too, so for that reason we cannot recommend more highly the ZeroGravity system from Sunboss.
The ZeroGravity system uses a unique spring system to create the perfect chainless blind that can be raised and lowered with the lightest touch. No chain required. It is truly a system that is child safe with zero effort.
If the safety of your children is paramount then you simply cannot go with any other option.
Double roller blinds offer versatility, and maximum privacy. They feature two layers – The first lets light through but offers privacy, perfect for daytime use. The second layer can be used at night to maximise privacy.
Venetians remain one of the most popular blinds for our customers' homes as they offer one of the highest controls of light of any blind option. We have different material options to suit your style and needs including aluminium, timber and fauxwood – all of our materials are soil resistant and easy to clean.
Within this range we also offer the choice of traditional and slimline blades, child safe wand operation, hold down clips for doors and more.
A classic and elegant favourite, timber venetians bring a touch of traditional flair to any space, while offering full flexibility when adjusting the level of shade and privacy.
Our Timber Venetian blinds use plantation grown timber purposely developed for manufacturing furniture and window coverings. As a medium density hardwood, it delivers an extremely durable and stable material for Venetian blinds.
The natural characteristics of the timber means it is less likely to warp or dent, and the density of the grain provides a smooth surface for stain and paint applications. However, being a natural product, the timber may absorb a certain level of moisture and is therefore not recommended for moisture rich environments such as laundries or bathrooms.
Our Fauxwood Venetians are a man-made material which is processed at high temperatures to create an exceptionally strong and durable product for Venetian blinds. The material is UV stabilised, with the UV protector combined throughout the material to increase its suitability for a wide range of environmental conditions.
This Venetian is suitable for wet areas due to its non-absorbent characteristics. It is a low maintenance product, easy to clean, and is suitable for heavy use applications.
Available in 50mm or 63mm Venetians and 50mm or 63mm Privacy venetians.
Contemporary, sleek and stylish, Aluminium Venetians will bring an extra level of style to your space.
They offer flexibility and total privacy control combined with striking sharp lines to make a bold statement in your home. They are manufactured with powder coated aluminium, which provides a light, durable and stable window treatment.
The slimline Aluminium Venetian slats are 25mm wide making it a highly suitable product for applications where space is at a premium.
Roman blinds are a traditional yet contemporary window furnishing. They give your windows a luxurious, soft finish and are perfect for living spaces where you want to indulge in a little extra level of comfort.
With three design options, using light filter, sunscreen or block out fabrics, each selection has the ability to accentuate a space and complement the room. The Roman blind can enhance many décor styles, with many textile options on offer the possibilities are endless enabling it to suit all design, light and privacy requirements.
Similar to the Panel Glide options, Roman blinds allow the fabric to be emphasised by choosing from a soft fold, a sewless Roman that eliminates needle holes; or a plantation blind which uses timber battens on the front of the fabric and creates a lovely roman fold when lifted.
Modern interpretations of the classic Roman blind have succeeded in delivering a stylish, cutting edge solution that is able to achieve straight or angled vertical drop, as well as sloping applications. Widths and drops up to 4 meters can be easily accommodated with a smooth, quiet chain-controlled operation.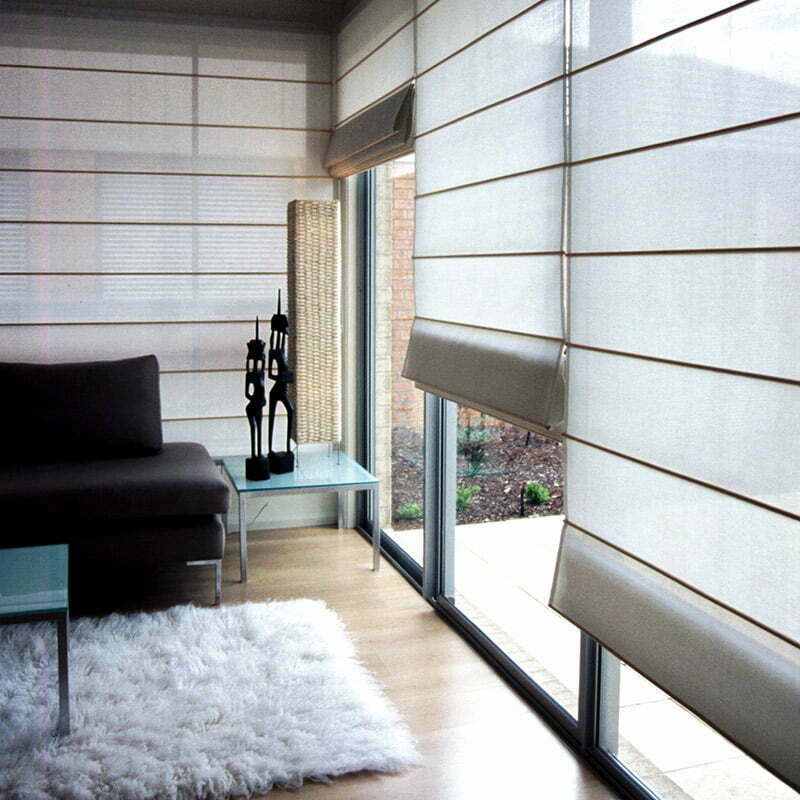 Cellular blinds are available in an extensive colour range all with a consistent backing providing a beautiful uniform view from the interior and exterior of your home offering a lightweight, compact and truly elegant design.
Cellular blinds are well known in the industry for allowing greater insulation and sound absorption, and our high-quality range is no exception. They deliver a wide range of functional operation controls making it an exceptional, child safe choice for a wide variety of environments and applications.
They are available in a 25mm Single Cell or 38mm Single and Double Cell designs.
A Zebra blind is a truly elegant, modern window covering that delivers a unique solution for controlling the shade and privacy levels in your home.
They are made with a double layered fabric that is available in light filtering, semi opaque or blockout fabric. This is combined with an alternating elegant sheer panel that is woven into the fabric, creating a striped or 'Zebra' effect with the two layers of striped fabric that roll off a single tube. One fabric layer rolls over the back of the tube and the other layer is anchored to the back of the headrail.
The blind is controlled by either a continuous cord or chain loop which is used for lowering and raising the blind, as well as positioning the fabric stripes for light and privacy control. The front and back layers of fabric will go through sequences of overlapping as the blind is let down and raised, once the full drop of the blind has been reached the overlap can be adjusted to achieve the preferred level of light and privacy.
Transition offer another ingenious solution for sunlight and privacy control without having to raise the blind. The Transition range offers fabric in a variety of finishes and an extensive range of colours. The headbox, chain control, bottom rail and chain are also available in a variety of colours to suit any decor.
Stainless steel chain options are available, while fabric inserts are an option for the headbox, allowing the matching fabric to be inserted as a feature.
Panel Glides provide an optimal solution for covering sliding doors or large windows and can also be used as room dividers.
The design has panels of fabric overlap with each other minimising the light infiltration into the room, making it a great choice for all areas that require light to be minimised.
Panel Glides allow you the choice of three simple, yet stylish designs allowing the fabric to be the main attraction. You can opt for simple elegance with the sewless option, adding soft tuck lines along the fabric, or have the ability to contrast or complement the fabric by using timber battens along the front of the panels or letting the fabric of your choosing make a statement on its own.
Another classic, stylish window covering, Vertical blinds are able to provide light and privacy control with the functionality to rotate blades through 180°, or set them at any angle in between.
Further to this, several draw and control options are available to suit a range of window or door layouts. Vertical blinds can be cord and chain operated or wand operated, and are a practical option for large door areas.
With the option of either light filter or blockout fabrics enables coordination between products with all vertical fabrics offered in an 89mm or 127mm blade width.
Selected blinds are available with comprehensive automation options by Rollease Acmeda, allowing you to unlock the luxury and convenience of automated shade control in your home.
Free Measure, Quote & Samples
We make the whole process hassle free.
Satisfaction Guaranteed
Our customers satisfaction is our #1 priority
Fully Managed Project
We manage the entire process for you – From measure to quote to professional installation.
30+ Years Experience
Get friendly advice based on our extensive industry knowledge.
The Best Of The Best
Only the highest quality, custom luxury curtains – Without the 'luxury' price tag!
Family Run Business
Join our family – We are 100% Queensland owned and operated.
Get The Best Of The Best In High Quality, Custom Luxury Blinds
Get Affordable Luxury Without The Price Tag With Our Extensive Range Of Blinds.  We Offer A Free Measure & Quote + Free Samples. Our Customers Satisfaction Is Guaranteed!
Call 1300 001 LUXE or send us your details to arrange a free measure and quote
Gallery
View our photo gallery for more images and style ideas.